Ms Priyanka Bandekar​
I had been diagnosed with Endometriosis and Fibroids since 3 years whch Resulted in Hormonal imbalance and Obesity… My doctor gave me the best remedy was to lose weight and recorrect my lifestyle as I myself m a foodie and hardly took efforts for my fitness. Who else could have been the best advisor but my sister... I approached Heemangi and she helped me understand the importance of Nutrition and how it can help me solve all my health issues. She was very professional with me and guided me well in my journey towards an easy weightloss of 10 kgs in 2 months and also have helped in a drastic health improvement... Though I have been offtrack since a month still I have incorporated healthy habits and successfully maintained the weightloss and intend to lose further. Would highly recommend Being WellNutrition and Heemangi's guidance to solve any health remedies
Mrs Munira Tankiwala
Health and maintaining my weight has always been a priority for me and my Nutritionist Heemangi at Being Well Nutrition has really helped me not only in my weight loss & Transformation Journey but also to improve & solve my health issues. It is a myth we all feel that post '50 years' of age weightloss isn't possible or your Metabolism is slow, proving all that wrong till now | have lost 9 kgs in 3 months from 65-56kgs with my 'Uric Acid' Levels coming to a normal from 7mg/dL to 3 mg/dL' No Fad Diets or Fad Fasting which have been in trend off late. But I had all food in moderation. With Her versatile, systematic diet plans & Guidance in Exercises, I could feel a major difference in the first month itself. Thank you Heemangi for everything. Really appreciate.
Ms.Ashika Dsilva
You are such a great motivator. In the past few years I had stopped paying attention to what I eat.I adapted a lifestyle where I stopped eating at home and started living my life on junk food. I don't know or have the words to thank you for the efforts you have put into me. I used to believe in a myth that dieting means starving whereas its you who helped me understand that you just have to eat the right food on the right time. You designed a diet according to my daily schedule and it never felt like a burden. Thank you for making my eating habits healthier and inspiring me to balance my daily food intake. I would highly recommend you to everyone trying to adopt a healthy lifestyle. Consistency is the key and thats what I have understood very well. We still have a long way to go but I am already so far from where I used to be and I am proud of that, You are actually a miracle worker you care for each of your clients and understand them so well. I started looking radiant and received so many compliments from everyone! It felt incredible. Reducing 10 kgs in 45days seems like an impossible task but it's you who made it possible thank you for helping me rediscover myself. Lots of love
Ms Shelly Mangat, Vancouver Canada
#TransformationTuesday .. Well, "I don't know if you can see the difference, but I can very well feel the difference". The recent pandemic has hit almost 9 in 10 people and really hard. I wouldn't exclude myself either from the list with me becoming a lazy nuthead with the WFH schedules and ridiculous eating patterns fen. It's only about less than a month ago (2.5 weeks to be precise), decided that all the crazy walks, zumba and workout wouldn't help unless the tongue is in control €3. You don't need a striking amount of weight loss difference to feel good. One needs to feel good about just the "difference" to make within yourself. Couple of ppl to thank for, for this @a. Himangi Patil You didn't flinch a minute when I reached out to you for help. Your remarkable diet helped me achieve what I believe I couldn't do in such a short span of time. I love you di, for bearing with me, offering me changes on and off even with the crazy time zones we are in..
Mr Jigar Shah
Our journey of weight loss with Hemangini has been nothing but surprising !!! Who knew we could eat so much and a little more while on a diet to loose weight. There were times when me and Jigar would ask Himangi to reduce the portions but she knew what she was doing and we trusted her too much to go against her word Fast forward to 3 months later and we are already halfway through our target and throughout these 3 months we never felt any burden of following a diet. There were no craving, no cheat days and most of all NO STARVING. We ate everything we liked and then a little more. But in 3 months we realised this for sure. You don't have to stop eating or go on a crash diet to loose weight. Eating healthy and in right portions and hydrating yourself is important A BIG THANK YOU Heemangi for making our weight loss journey so fulfilling
Ms Maitrei Agarwal
I will highly recommend Heemangi for weight loss and a healthy Diet Plan. Her Diet plans are not very fancy, it is curated as what you normally eat in your daily life. The best part about her diet is that you don't have to cook separately for yourself. She helped me lose 9 kg and this was only possible because of her diet. I was able to come down to my plate weight and this is something I wasn't able to do for a long time. Heemangi is available all the time, she clears your doubt with patience, and always keeps a track of your progress. In other diets I have seen that after giving the plan for a certain period they do not converse with you till you go to them for something, even if they do contact it is usually after a month or so, but Heemangi herself will inquire in every 4 to 5 days. She is really good! Thank you Heemangi.
Ms Vidhu Khurana
I would highly recommend BeingWell Nutrition by Himangi Patil. During lockdown I gained too much weight as very few thing with grt difficulty were made available. Whatever I cooked for family I ate that including Junk also. I read some of the reviews about Heemangi on Facebook so thought of giving it a try. So that this year could shed some kgs. She gave me diet which included everything but in right proportion. I never felt that I want to eat more or I'm hungry. Eating in correct proportion I lost 11 kgs. Over the period the diet she gave me was very easy to follow. Apart from that I didn't feel that I'm on diet as I was eating much more than I was before. Visible change in weight and inch loss helped me change my lifestyle from unhealthy to healthy. I am really greatful to Heemangi for all the help and support. Love you Himangi, you are the best dietician I have known QG
Ms Sarah Joseph
Best way to get back!! Apologies for the late testimonial. My experience with Ms. Himangi was special and wonderful. I met her through my husband who was her childhood friend and was himself benefiting from her diet. I happened to talk to her as a friend and she was quick enough to make me understand what my body needs. I had never attempted to follow any dietary changes before. We had a detailed call about my existing medicines of thyroid and PCOS and there she was confident that I would achieve a considerable weight loss/health benefit post the start of my first diet plan. She is unique and knowledgeable in understanding the science behind each weight gain, hidden problems within the body and then provide the nutritional requirement. I started off at 87 kgs and within 40 days I was at 79.8 kgs (appr. 9 kgs gone). Trust me there was a massive inch loss too. I looked younger, active, and got beautiful compliments too. Another thing she realized that I was eating way too less to lose weight and she made me eat full meals (much more than what we call dieting) without gaining weight. I had to have protein in recommended quantity and as per my choice of taste which was easy to follow. Only restrictions were refined sugar. Surprisingly, I was allowed to eat rice and bread HENCE NO CRAVINGS LEFT. I continue to enjoy the diet chart given by her and would recommend each and everyone to seek suggestion from her to continue with a healthy lifestyle. TRUST ME ITS NOT DIFFICULT IF YOU HAVE A GOOD NUTRITIONIST TO GUIDE.
Ms. Payal Shamdasani, Los Angeles USA
Met Hemangi last year in June through my sil's Rekha & Theresa. Theresa's weight loss journey really inspired me to contact Hemangi and try for myself. I had gained quite a bit of weight during the first lock down period and was unable to shake it off. had tried several diets, routines, workouts, but nothing seemed to work. I had the goal to loose at least 10 pounds. Hemangi started me off with a personalized plan that was very balanced. I never felt like I was starving or depriving myself. The biggest plus point in the plan was that she worked around my Ulcerative colitis (uc). I cannot eat most daals, curds, etc, so she suggested replacements for that. I felt all of the meals were well balanced. The BEST thing about Hemangi is that she would check in on me every week. If I dare cheated or didn't work out, she would encourage me to get back on track. I loved that she kept following up so diligently with me. I needed that push. Thanks to her I changed my diet and workout routines. I lost over 6 pounds and am so thankful to her for that. Thank you for your hard work and dedication and changing my diet according to my body. I would highly recommend Hemangi for consistent weight loss!
Ms. Amita Nair, Doha, Qatar
When you just decide to take care of yourself then there is no looking back. I was in a search through whom I can start and continue my health or diet plan as I was going through few health issues. I saw and read about Hemangi Patil on Facebook group, immediately I contacted her and shared my concerns being not in india was not at all a problem we always had smooth conversations and her dedication towards her clients is the USP she will always check on you and keep a good track about there health and diet. She is the one who helped me to increase my water intake which is necessary in a healthy weight loss, her diet plan includes complete nourishment which is as per the likes and dislikes of oneself. She is not only a nutritionist but also a good friend or companion who patiently listens to all your health issues or daily constraints and make changes accordingly in which one is comfortable. I would always recommend her to all age groups who really want to help themselves by loosing weight in a healthy way. My best wishes to being well Nutrionist hemangi patil and team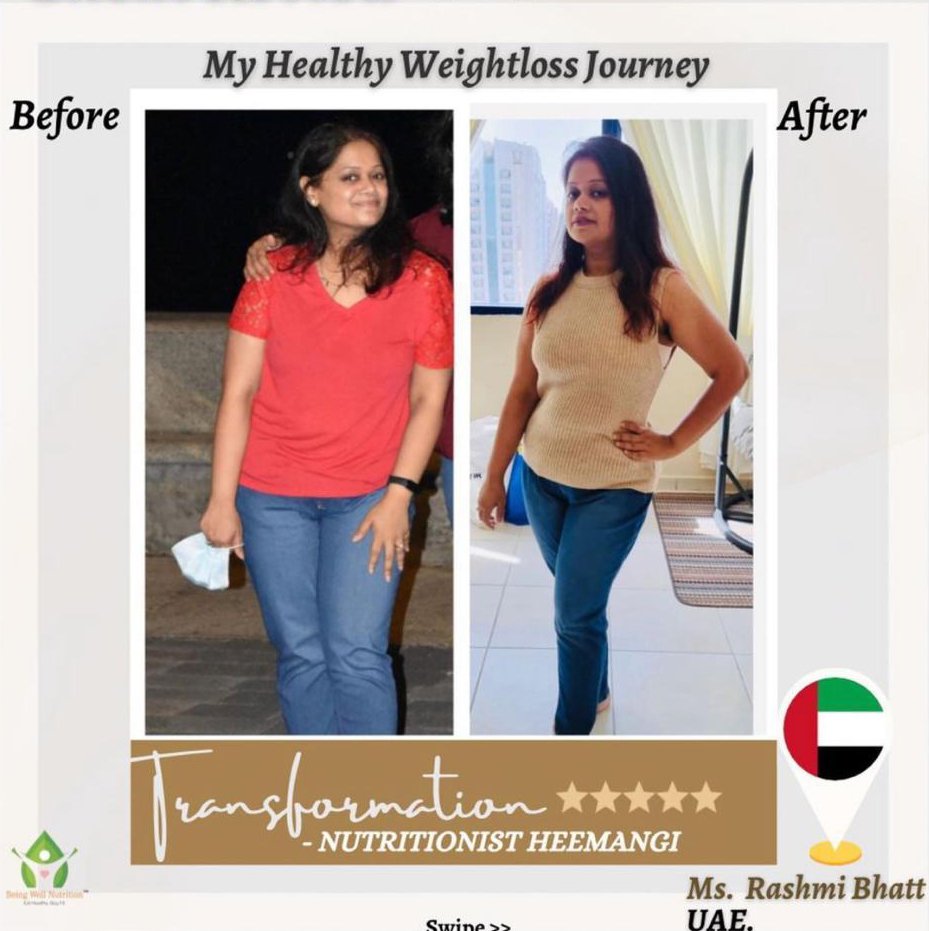 Ms. Rashmi Bhatt, UAE
Being healthy was just a thought for me which was then nurtured in such a beautiful way by dietician Heemangi. I always wanted to start a healthy eating lifestyle but couldn't give up on cravings to fancy food. After coming to Heemangi I was able to do so with her well planned meals with so much of food options to eat and yet loose significantly. Being a foodie I always avoided dieting, but Heemangi understood my routine and my taste and planned meals in such a way that I never felt I was dieting. In fact I was loosing weight and inches with no compromise on food. She is an excellent motivator and only because of her I was able to reach my desired goal. Thank you sooo much
Ms. Sharika Kamath
I never paid any attention to what I eat and as a result have had to bear the consequence of being over weight for many years. On turning 45 this year I felt that I should take care of my health to avoid unnecessary health issues. On witnessing an inspiring transformation of a friend, I decided to approach Heemangi, founder of "Being Well Nutrition". Her easy to follow and practical meal plans motivated me to eat right.eat healthy! and that too without starving. Infact I would tell her that I cannot eat so much Have never eaten so many fruits nor have I drank so much of water all my life that I did in these last few months religiously. It has now become a part of my daily routine thnx to her. Her guidance and motivation helped me to start my weight loss journey and now there is no looking back for sure. Following her diet plans along with a regular exercise routine has helped me to lose around 10 kgs in four months. Personally, I believe that being fit is not just about having a well 'curved or toned body' but is more about having normal health parameters at all times Heemangi too emphasises on maintaining healthy eating habits that are easy to follow for a lifetime with long term benefits. The journey to a healthy 'ME' has just begun and will continue. I am immensely grateful to Heemangi for all her support to make me believe that I can do it too. Picture abhi baki hai Heemangi Thankyou so much
Ms. Meenal Upadhyaya
During the lockdown, I had issues like weight gain, bloating, high sugar and cholestral levels. When I started consulting Himangi Patil, I had complete faith in her but zero faith in myself as I am not very dedicated and disciplined. But I did not have to worry because Himangi guided me properly throughout the journey. She helped me to eat a balanced diet with her well planned diet plans and detox plans. I never felt the burden of following a diet because she made me feel very relaxed. I also started exercising regularly. These habits will be for a lifetime now. Whenever I lost focus she helped me by checking on me regularly and giving proper advise and meal suggestions. Today my parameters are normal, I have lost weight, I feel much healthier and active. Thank you so much Himangi!
Ms. Shruti Malani
"Time and health are two precious assets that we don't recognise and appreciate until they have been depleted" But when you have a friend /sister/guide n most importantly nutritionist like Heemangi by your side you have to be rest assured of being healthy.I was always been lazy to do anything for my ownself but Heemangi made sure that i not only make this change of lifestyle for myself but bring this lifestyle change in my family too. Her guidance and her continuous follow ups drives you to achieve any goal you have set for yourself. Being gujju the food cravings and fancy food that we eat in our day to day life was also been taken care of ,i was given to eat breads , continental etc .I started my journey thinking only to lose weight but in this journey my heath issue of eczema was also taken care of and today my skin is all clear with no marks. Now this has become my lifestyle and i enforce this on my children too and they are happy too with it It's about eating right in right quantity at right time which Heemangi takes utmost care of and brings changes in your plan according to your wish . I have successfully lost 7 kg and still driven to achieve my target THANK YOU SO MUCH my dear
Ms Sri Harika
Looking fit and feeling fit are two different things and till few months ago I belonged to the first category. They never much reflected on my exterior appearance but the consistent increase of number on the weighing scale, high cholesterol levels with statin dependency,low HB count had a different story to tell. I knew I had to make life style changes,tried with few but couldn't sustain. But when even a two stairs flight started leaving me breathless I realized I had to do something and around the same time have seen a friend's amazing transformation journey with Heemangi and decided to give it a try with her Since consistency has always been my biggest issue I honestly had no expectations from myself but what Heemangi said after my first consultation stayed with me. She simply said I trust in your energies and I wanted to keep up that trust. What worked for me was how her customized diet plan was simple, doable and practical. There was no starving,no fad diets and with little efforts and changes, I saw myself adapting it. She is really open for the feedback and whenever something wasn't working for me she provided me with the alternatives without being a stickler. In my case it had been real struggle to bring down the weight in the initial few months, as the numbers were not coming down easily but with Heemangi's motivation I just kept at it.I also had to take many a breaks due to personal reasons, but she was ever patient and never gave up on me- constantly nudging and pushing me to stay on track. Finally I did started noticing changes in my weight but the best part was the improvement in my energy levels not just when I exercised but all through out the day. My digestion,my sleep,my skin, my mood swings all started showing positive changes and that is when I realized in reality how much difference does eating right makes. When I did get my health check ups done finally few days back, I was one elated soul to see the lowered cholesterol levels and positive changes in many other parameters which made it finally possible for me to not just look fit but feel fit too With terrible eating habits and lifestyle I had previously, I never trusted myself to sustain in this journey but with Heemangi's guidance, encouragement and the amazing changes I saw in me for myself I now can confidently say that I can never afford to go back to my previous self. I do still have a long way to go,but from where I begun to where I have reached today is a big achievement in itself and I am ever greatful to Heemangi for now making it a way of life.
Mr. Kaustubh Kale
Being a food photographer myself it was a huge task for me to say no to delicious food, but Nutritionist Hemangi made it easier with her customised meal plan according to my schedule. When I was travelling she gave me a list of do and don't as well as some healthy food replacements to avoid cheating. Thanks to Nutritionist Hemangi for the motivation you gave and for checking my food intake each and every day, i lost 9kgs in 3 months and ended up starting some healthy habits which i will hopefully continue for the rest of the life.